CORPORATE PROFILE
Trade Name
Vortex Co.,Ltd.
Date of Establishment
April 13, 1999
Capital
104.5 million yen
CEO
Fumihiko Miyazawa
Address

Head Office
Iidabashi Grand Bloom Bldg. 22F 2-10-2
Fujimi, Chiyoda-ku, Tokyo 102-0071, Japan
TEL: +81 3-6893-5550 FAX: +81 3-6893-5470

Osaka Office
Pacific Marks Nishi-Umeda Bldg. 16F 2-6-20
Umeda Kita-ku, Osaka 530-0001, Japan
TEL:+81 6-6341-3721 FAX:+81 6-6341-3720

Nagoya Office
Sumitomo Seimei Nagoya Bldg. 6F 2-14-19
Meieki Minami Nakamura-ku, Nagoya 450-0003, Japan
TEL +81 52-533-5506 FAX +81 52-533-5509

Fukuoka Office
Daia Bldg. Fukuoka Akasaka 5F 1-15-33
Akasaka Chuo-ku, Fukuoka 810-0042, Japan
TEL +81 92-738-0830 FAX +81 92-738-0865

Number of Employees
212 (including board members) *as of end of March 2016
License
Minister of Land, Infrastructure, Transport and Tourism (1) 8509
Building Lots and Buildings Transaction Business. Transport and Tourism (1) 034052 Condominium management. Common 1205. real estate investment advisory services. Real Estate Specified Joint Enterprise Permission Governor of Tokyo Permit No.99
Business Domain
1) Asset formation consulting centering around profit-earning properties
2) Composition, buying and selling, brokerage, leasing and management of profit-earning properties
3) Management based on the Act of Improving the Management of Apartment Buildings
4) Non-life insurance agency (agent of Fuji Fire and Marine Insurance)
Our Banks

Aozora Bank,Ltd.
Ashikaga Bank,Ltd.
AEON Bank,Ltd.
Asahi shinkin Bank, Ltd.
ORIX Bank Corporation
Kansai Urban Banking Corporation
CREDIT SUISSE
The Gunma Bank,Ltd.
The Keiyo Bank,Ltd.
Saikyo Shinkin Bank,Ltd.
The Sawayaka Shinkin Bank,Ltd.
SHIGA BANK,ltd.
Shikoku Bank,Ltd.
Shizuoka Bank,Ltd.
Central Cooperative Bank for Commerce and Industry
Johoku Shinkin Bank
Joyo Bank,Ltd.
Showa Shinkin Bank,Ltd
ShinGinko Tokyo,Ltd
Shinsei Bank,Ltd
Seibu Shinkin Bank
THE TAIKO BANK,LTD.
THE DAISAN BANK,
THE DAISHI BANK,
The Chiba Bank,Ltd.
The Chiba Kogyo Bank Ltd.
Tokyo City Shinkin Bank
The Tokyo Star Bank,Ltd.
The Tokyo Tomin Bank,Ltd.
The Toho Bank,Ltd.
Towa Bank,Ltd.
Tokushima Bank,Ltd.
First Bank Of Toyama
THE NISHI-NIPPON CITY BANK, Ltd.
Japan Finance Corporation
The Hachijuni bank,Ltd.
The Higashi-Nippon Bank,Ltd.
114Bank,Ltd.
Bank Of Fukuoka,Ltd.
The Hokuriku Bank,Ltd.
Mizuho Bank,Ltd.
Sumitomo Mitsui Banking Corporation
The Bank of Tokyo-Mitsubishi UFJ,Ltd.
Mitsubishi UFJ Trust and Banking Corporation
The Minato Bank,Ltd.
The Musashino Bank,Ltd.
The Yachiyo Bank,Ltd.
The Yamaguchi Bank, Ltd.
The Yamanashi Chuo Bank,Ltd.
The Bank of Yokohama,Ltd.
Resona Bank,Ltd.

[in Japanese alphabetical order]

Affiliated Organizations
National Association for Real Estate Transaction Guaranty
The Tokyo Real Estate Association
Aichi Real Estate Association
Fukuoka Real Estate Association
Osaka Real Estate Transaction
National Rental Properties Management Business Association
Affiliated Companies
VR Asset Co.,Ltd.
Vortex North America, Inc.
FINANCIAL INFORMATION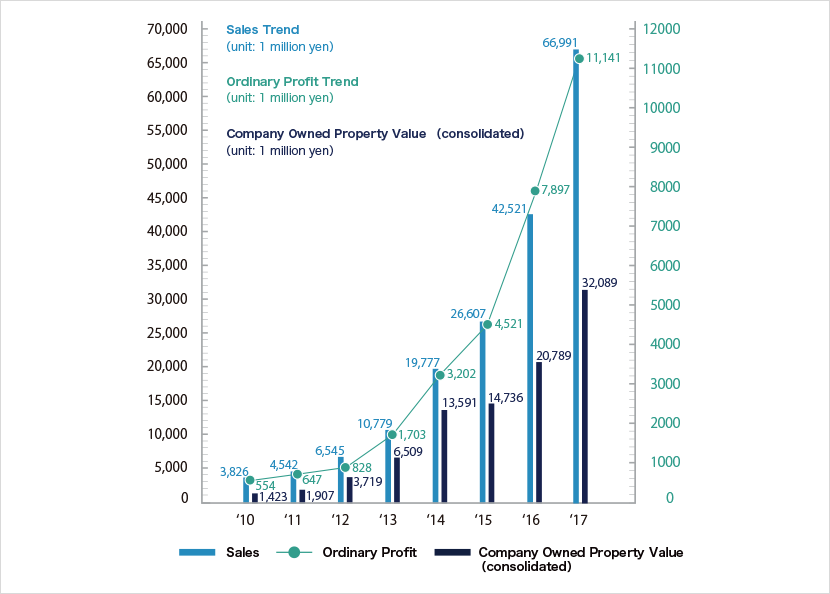 Sales

42,521 million yen
(March 2016 settlement)

Ordinary Profit

7,897 million yen
(March 2016 settlement)

Company Owned Property Value

20,789 million yen
(March 2016 settlement)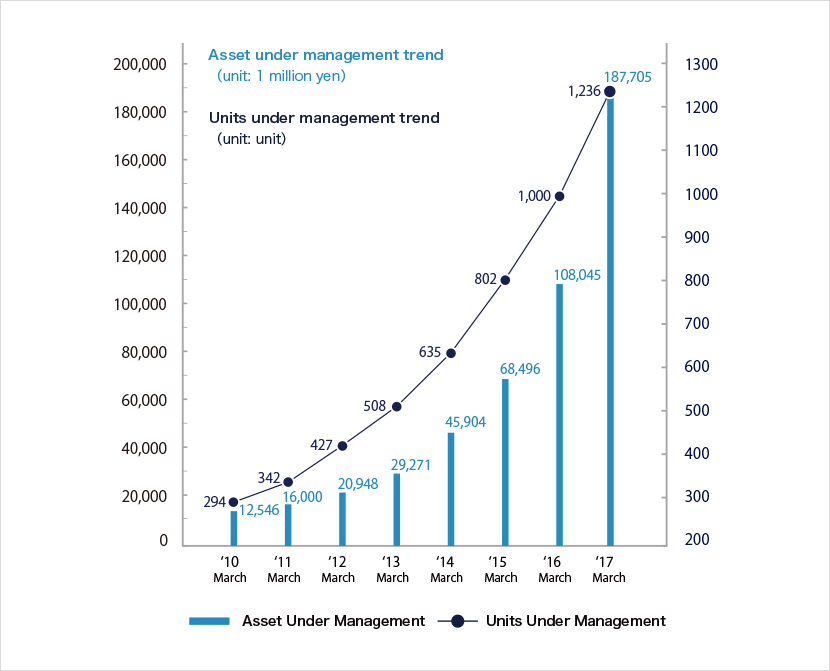 Asset Under Management

108,045million yen
(as of March 2016)

Units Under Management


(including parking lots)

1000 units
(as of March 2016)