Vortex Co., Ltd.
Company
Vortex Co., Ltd.
Established
April 13, 1999
Capital
JPY 140,848,000 (as of September 30, 2019)
Representative
Fumihiko Miyazawa
Head Office

Tokyo
Iidabashi Grand Bloom 22F,
Fujimi 2-10-2 Chiyoda-ku, Tokyo
Phone 03-6893-5550 (Main)
Contact 03-6893-5310 (Global Division)

Branches

Sapporo
Hokkaido building 1F, Nishi 4-1, Kita 2 Jo, Chuo-ku, Sapporo, Hokkaido

Sendai
Asahiseimei Sendaichuo Building6F, Chuo 2-9-16, Aoba-ku, Sendai, Miyagi

Niigata
Niigata Central building 4F, Higashiodori 1-7-10, Chuo-ku, Niigata-shi, Niigata-ken

Kanazawa
Kanazawa Park Building 8F, Hirooka 3-1-1 Kanazawa, Ishikawa

Nagoya
Sumitomo Life Nagoya Building 6F, Meiekiminami 2-14-19, Nakamura Ward, Nagoya, Aichi

Osaka
Pacific Marks Nishi Umeda 16 F, Umeda 2-6-20, Kita-ku, Osaka, Osaka

Hiroshima
Hiroshima Inaricho NK Building 9F, Inaricho 4-1, Minami-ku, Hiroshima, Hiroshima

Fukuoka
Diaville Fukuoka Akasaka 5F, Akasaka 1-15-33, Chuo-ku, Fukuoka, Fukuoka

Kagoshima
Kagoshima Shokokaigisho Building 9F, Higashisengoku-cho 1-38, Kagoshima-shi, Kagoshima

Employees
487 (As of March 31, 2021)
Licenses
Minister of Land, Infrastructure, Transport and Tourism
Building Lots and Building Transaction Business (2) No.8509
Condominium Management Business (2) No.034052
Real Estate Investment Advisers General No.1205
Specified Joint Real Estate Ventures, Commissioner of the Financial Services Agency、Minister of Land, Infrastructure, Transport and Tourism No.101
Type II Financial Instruments Business Operator No.2952
First Class registered architect office [Tokyo Governor]No. 64061
Business
Asset Management Consulting and Property Investment
Real Estate Development, Buying and Selling, Brokerage, and Leasing
Property Management based on Condominium Management Act
Damage Insurance Agent
Subsidiaries
VR Support Co., Ltd.
VORTEX INVESTMENT ADVISORS Ltd.
Vortex Digital Co., Ltd.
Vortex Gojinsha Building Management Co., Ltd.
Vortex North America, Inc.

Consolidated Financial Performance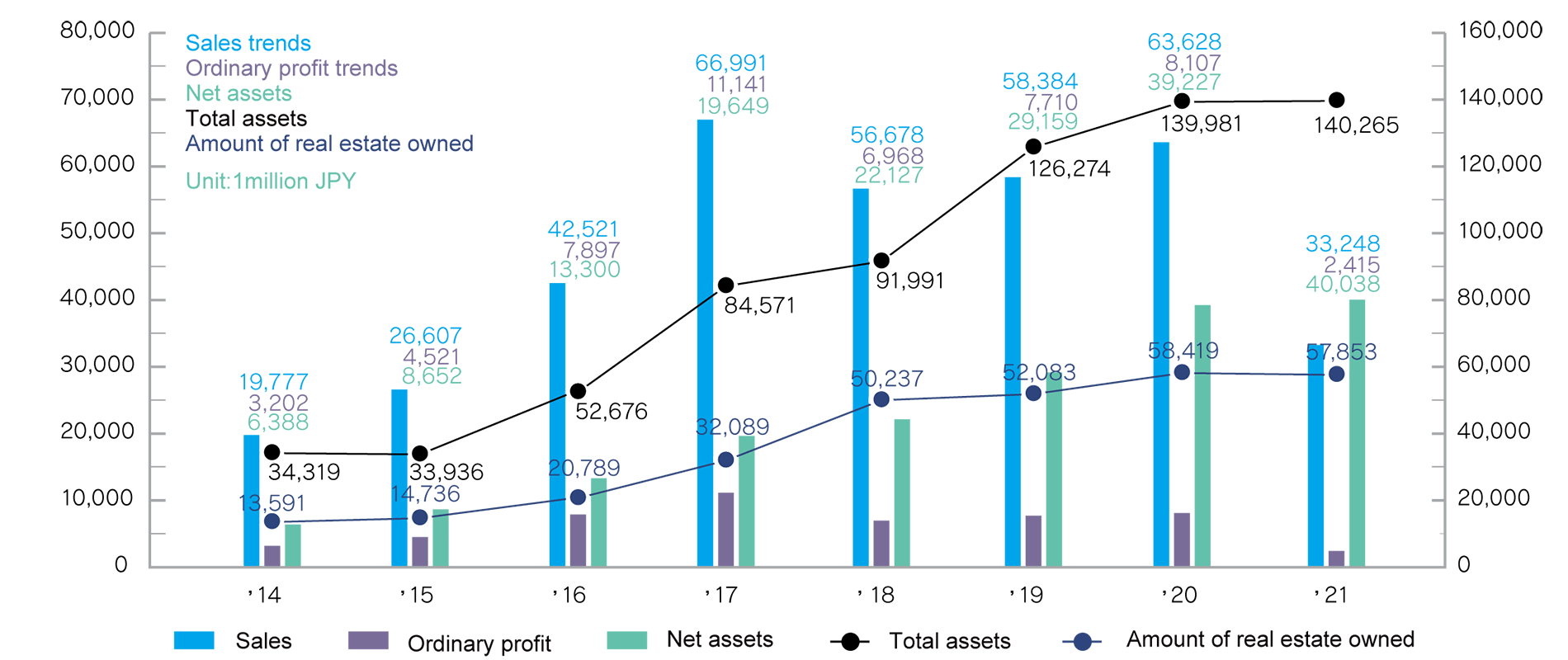 Sales

33,248 Billion yen
(As of the end of March 2021)

Ordinary Profit

2,415 Billion yen
(As of the end of March 2021)

Amount of Real Estate Owned

57,853 Billion yen
(As of the end of March 2021)

Net Assets

40,038 Billion yen
(As of the end of March 2021)

Total Assets

140,265 Billion yen
(As of the end of March 2021)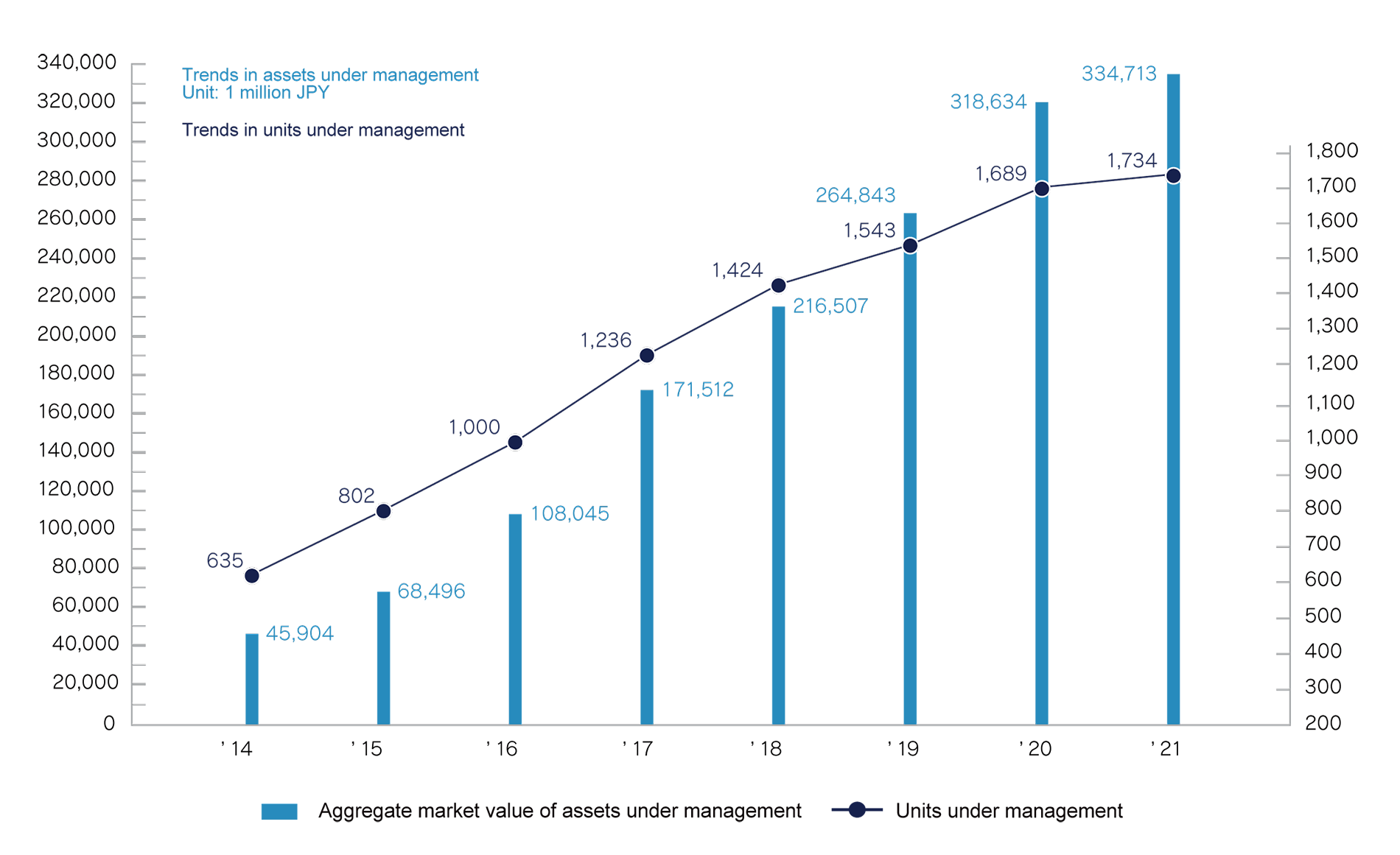 Total Assets Under Management

334,713 Billion yen
(As of the end of March 2021)

Unit Under Management

1,734 units
(As of the end of March 2021)